Airbrush Tanning
Lindy's At The Beach is THE premiere custom airbrush tanning studio. Our experienced and talented group of airbrush artists hand spray and customize each and every tan.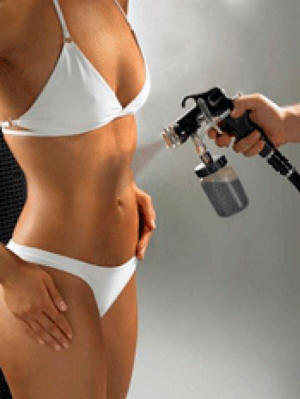 Airbrush tanning is our specialty and passion and we understand that spray tan sessions can be intimidating. We have experience in all body types and are discreet, professional, and here to make you comfortable. Airbrush Tanning is great for special events, vacation, in place of UV tanning beds, or in addition to UV tanning beds. Gather your friends and make it a Party!
What is Airbrush Tanning?
Airbrush tanning is a process that uses an air compressor and airbrush delivery system to gently and evenly apply tanning solution to the skin for a golden glow.
How does it work?
The active ingredient in the tanning solution is DHA-dihydroxyacetone, which is derived from sugar cane and interacts with the proteins and amino acids in the outer layer of your skin (epidermis) to produce a golden tan color. This reaction takes 4 to 6 hours to visibly emerge into a golden tan. It then continues to develop over the next 24 hours. The color that results varies slightly from individual to individual; just as UV tans will differ, according to natural skin tones. This is different than the UVA and UVB rays of the sun that stimulate the melanin pigment in the skin.
What results can I expect?

The tanning solution is streak-free, applies easily and evenly, absorbs quickly, gives a natural-looking golden tan, and fades much like a tan from the sun. The final effect will last up to ten days (depending on how you care for your skin) as the skin slowly exfoliates off the dead skin tissue.
How should I prepare for an Airbrush tanning session?
Before Apointment
• Waxing, shaving, pedicures and facials should be done at least one day prior to tanning session.
• Take a shower and exfoliate properly using a pH balancing exfoliating scrub such as Amber Sun Body Scrub. Removing any dead cells and body oils will help the sunless tanner penetrate your skin and give you the best results. Avoid using bar soaps, high pH shower products, or in-showers moisturizers. These products can neutralize the DHA bronzing action within the skin.
• Do not create sunless barriers. You do not want to apply anything to the skin that may act as a barrier between the sunless solution and the skin. Deep penetration is key to beautiful lasting color. Do not use deodorant, makeup, perfume or moisturizers prior to your appointment. Lotions can act as a barrier & prevent the solution from contacting your skin.
• You may tan in the garment of your choice. Bathing suits and underwear work well or some women prefer to go au natural.
• Wear loose-fitting dark-colored clothing and flip-flops. Some of the bronzer can rub off on your clothing and shoes. Tight clothing can rub or smear the cosmetic bronzers.
At Appointment
• Undress to your comfort level and place clothes in drawer
• Pull hair completely of any area of your skin and put on shower cap
• Because hands and feet are dry, apply a small amount of barrier cream on those areas.. wrist down and ankles down, lightly covering ONLY those areas. DO NOT TOUCH ANY OTHER AREA OF YOUR BODY.
Immediately After Your Session

• Avoid any form of wetness for at least 8 hours: Avoid perspiring, washing hands, and other water activities as this may cause streaking. Drink from a straw.
• Do not put on tight clothing or items for least 8 hours. DHA is activated by air, so if air is restricted by glasses, flip-flops, bras, crossed legs etc. tan lines may be created.
• Do not exercise (first day). Perspiring immediately after tanning alters the chemical reaction of the solution changing its color.
• Do not apply moisturizer.
• Wait at least 8 hours before showering. We recommend waiting until the next day and using an alcohol-free shower gel such as Amber Sun Body Wash. You will see color washing off the first time you shower - this is normal.
• Wear pajamas if sleeping within 8 hours of your session. This will prevent the tan from transferring from the skin onto the palms of your hands or from one body part to the other.
• If you desire nail services, we recommend scheduling with our Nail Technicians. They are experienced in servicing guests with an airbrush tan.
Maintaining & Prolonging
• The immediate color to your skin is the "Cosmetic Bronzer". This will wash off during your first couple showers. The DHA that actually is tanning you and holding your tan IS NOT what you see washing off in the shower. The DHA is absorbed into your TOP LAYER OF skin(dead skin cells) immediately after your spray, begins to tan you 2-6 hours after your spray, and has the potential to "hold" your tan for 7-10 days.
• Apply moisturizer morning, midday, and evening or more with an alcohol free lotion(avoid the ingredient AHA). Hydrated skin makes your tan last longer. Dry skin & alcohol based products are drying to the skin making the tan fade quicker and unevenly. We recommend using Amber Sun Prolong Extender which moisturizes and adds a hint of color while also adding 3-5 days to the life of your tan.
• Avoid long hot showers and baths, and scrubbing excessively. Pat your skin dry.
• Avoid shaving for at least 24 hours after your session.
• Do not use a loofah, mesh puff or washcloth
• Do not use bar soap as this can alter the pH levels in your skin. Our recommendation is to use Amber Sun's Body Wash.
• Use a fresh, sharp razor and avoid exfoliating, hair removal, and bleach products.
• Hot tubs, pools, and oceans will shorten the length of your tan. Use an Aerosol WATERPROOF Sun block
• Take care when exercising as excess sweat may cause your tan to fade unevenly.
• Purchase Tan Extender to extend the life of your tan & Self Tanner "Tan in a Can" for touch up's
• You may spray as many times as you like. Wait at least 8 hours for your next spray!
• Apply sun block when exposed to the sun because your skin is not protected.
Do you offer In House or Mobile Airbrush Parties?
Yes. Gather some of your friends and get tanned! Lindy's At The Beach airbrush artists can host a party for any reason and come to your home, work, on location for special events or at our facility.
Bed Tanning

About Our Beds


We equip our salon with the reputable & world known Sun Ergoline & Dr. Mueller.
Our bulbs, which we change regularly, are what set us apart from our competition.

They are "Bronzing" Bulbs which means there is a higher tanning ray(UVA) and lower burning ray(UVB).

The result of this combination is a darker, deeper, longer lasting, & natural looking tan with less chance of burning.

Results are seen almost immediately.
About Tanning Lotions
Bronzers: Self Tanning: gives you an added beautiful golden brown tan
Tingles: Stimulate Oxygen that is needed to tan you. Pushes you through your plateau. You will feel hot & have redness that will turn into a golden brown tan.
Intensifiers: Stimulate the production of your tanning pigment.
Owners Recommendations
Never sunburn: Follow posted exposure schedule. Read client form & all tanning warnings & risks. Tan a few days in a row to build a base, then every other day at the most-you will NOT get tanner by tanning daily, you only interrupt the tanning process. Alternate between the beds. Use one of our indoor tanning lotions for maximum results as well as one of our moisturizers 3 times per day.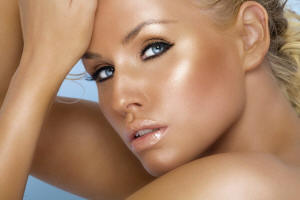 Eyewear is required: Move them every few minutes to avoid raccoon eyes (never lift up). Take off all make-up. You can move around to avoid pressure points, but never flip on the acrylic because it will break.