Massage Treatments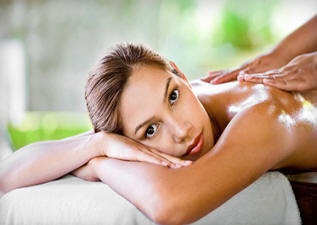 Slip into the hands of one of our Licensed Massage Therapists for the ultimate body and mind relaxation experience and let your cares melt away. Enjoy a Relaxation Swedish Massage, Therapeutic Massage utilizing Shiatsu & Trigger Point therapies or the soothing elements of a Hot Stone Massage. Share the experience with a loved one & choose a Couple's Massage paired with a HydroTub session for a rejuvenating session for two. Lindy's At The Beach mission is to provide a pleasant and relaxing experience for our guests while educating our community on the "true necessity" of massage and its valuable health and emotional benefits. After a thorough and confidential assessment of your needs and expectations, a massage will be customized to address your needs. Whether you are looking to release aches and pains or to relax your body and mind, Lindy's At The Beach is at your service.

Swedish Massage
This is the most common type of massage and sometimes also referred to as a "relaxation massage." The Swedish massage is done with light pressure. Techniques include long gliding strokes, kneading, tapping and sometimes a shaking motion that affects the body's muscles, nerves and glands. The Swedish massage is ideal for relaxing and increasing your circulation and energy.

Therapeutic Massage
This type of massage is meant to reach deep into your muscles and is done by using deep muscle compression and putting friction along the grain of your muscles. Although all forms of massage assist in releasing toxins, the deep tissue massage is a more intense approach. This approach is especially helpful for muscle damage from an injury such as whiplash or back strain.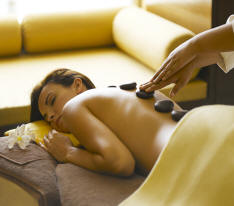 Hot Stone Therapy
This type of massage uses heated stones. The stones are moved around the body with light pressure to help relax you and your muscles.


Prenatal Massage
This massage is done for expectant mothers usually from their 3rd month on. A gentle, general wellness massage that helps balance physiologic responses and supports comfort and assists circulation. A doctor's authorization/note is required before a pregnancy massage can be performed.


Couples Massage
A couple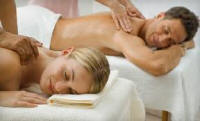 s massage is a massage for two people. You are in the same room with your husband, wife, friend, or mate. Brothers, sisters, mothers, daughters, fathers and sons may also want to consider a couples massage. If you would like to come in at the same time with someone and not be in the same room, that is okay too.


Reflexology Massage
This is an acupressure type technique. This massage is done on the feet and or the hands.


Sports Massage
This type of massage is meant to help prevent sports injuries, relieve swelling, fatigue and muscle tension. It is extremely helpful in increasing flexibility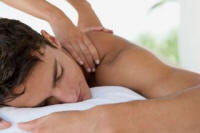 and assisting in enhancing athletic performance. It can be (and is recommended) to be performed before, during, and after athletic events, and for those who exercise frequently. This massage also consists of the therapist assisting you in stretching during your massage session.


Benefits of Massage



<![if !supportLists]> ¨

<![endif]>Increases blood circulation, reduces swelling, and breaks up scar tissue<![if !supportLists]>
¨

<![endif]> Increases the diameter of blood vessels: Reducing blood pressure<![if !supportLists]>
¨

<![endif]> Flushes out the toxins and draws in oxygenated blood: Relieves fatigue and muscular soreness<![if !supportLists]>
¨

<![endif]> Aids in decreasing poor circulation & some types of anemia: Helps the spleen to discharge more red blood cells

<![if !supportLists]>
¨

<![endif]>Increases the presence of white blood cells in the capillaries: This increase, along with white blood cell availability, enables the body to protect itself more effectively against illness and disease<![if !supportLists]>
¨

<![endif]> Decreases pain by the release of Endorphins, Enkephalins, and other pain-reducing neurochemicals<![if !supportLists]>
¨

<![endif]>Increase circulation to muscle tissue: Relieves pain caused by Trigger Points: Reduces Ischemis-related pain




<![if !supportLists]> ¨

<![endif]> Reduces Norepinephrine and Cortisol(stress hormone)levels<![if !supportLists]>
¨

<![endif]> Increases levels of Dopamine and Serotonin: Decreases in levels of Stress and Depression<![if !supportLists]>
¨

<![endif]> Relieves most types of headaches: These types include muscular, cluster, eyestrain, and sinus headaches




<![if !supportLists]> ¨

<![endif]> Induces relaxation: Alleviates insomnia




<![if !supportLists]> ¨

<![endif]> Reduces swelling due to lymph edema: This work can be done if not the result of inflammation or disease<![if !supportLists]>
¨

<![endif]> Eases the dysfunction caused by TMJ<![if !supportLists]>
¨

<![endif]> Decreases the recuperating period of sprains and strains: increases healing<![if !supportLists]>
¨

<![endif]> Reduces pain associated w/Muscular-skeletal conditions: Fibromyalgia & Myofascial Syndrome




<![if !supportLists]> ¨

<![endif]> Promotes healthy digestion: Reduces and Relieves constipation

Whether you are anticipating your first massage or you have received many massages, it's always good to go into a session with a heads-up of what to expect during your session.


The Intake Process

Your therapist will take some time to get to know you, your needs, and your goals. Also take this time to get to know your Licensed Massage Therapist(LMT). You will be asked to fill out a short intake form. This form will not only determine any possible contraindications you may have medically, but also help to determine the direction of your session. Once you and your LMT have determined the goals for the session, the hands on part of the treatment will begin.


Level of Undress

The question that is asked most often by our guests is what to w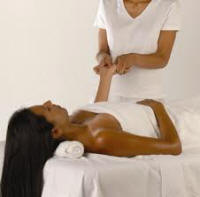 ear during treatment. Swedish massage is best done with the guest disrobed. That being said, the most important thing is that you are comfortable during your session. We always advise our guests to disrobe to their level of comfort. The amount of clothing that you wish to leave on (or off!) is truly up to you. A skilled therapist will be able to do their work regardless of how much you leave on or off. We drape our guests at all times. "Draping" refers to the placement of sheets or other items over sensitive areas of the body in order to provide maximum comfort for the guest. Our LMT's have been trained to ensure your comfort.

Your Role During the Massage
Once you are on the table and the LMT has started her work there are several things that you can do to further facilitate your relaxation. It is very important to communicate with the LMTs when necessary. Some things to communicate about include the level or depth of pressure, temperature, and any emotions that may come up. Much of our tension comes from not allowing ourselves to properly breathe. The difference between a guest who is experiencing a full breath on the table and one taking short breaths almost always correlates to the tension in soft tissue. Taking a full breath allows oxygen to be delivered more efficiently throughout your body. Deep breathing can help to deepen your relaxation. If you breathe high in your chest, this keeps you alert and awake. The deeper you breathe in your body, the more relaxed you will become.

Promoting a Safe Environment
We all have internal thought processes about our own bodies – we are all our own worst critics. I can guarantee that you think much more about the idiosyncrasies of your own body much more than your therapist ever will. Forget worrying about the state of the hair on your legs or whether you are ten pounds heavier than you wish you were. Your LMT is more concerned with what's causing all the tension between your shoulder blades or helping you to release a tight spot in your hips
.
While basic hygiene is encouraged for both the LMT and the client, the LMTs are quite understanding of basic bodily functions such as sweating and sandal feet during the summer. They see many, many bodies that are all different and unique in their own ways. While we are all individuals with our own needs and manifestations of tension, we are ultimately all connected through our embodiment. We all are at different stages of health or disease, but not a one of us is better or worse than the other regardless of what our outside appearance may be.

After the Massage
You will be given time and privacy to get off of the table and get dressed. Allow your body to integrate what has occurred throughout the treatment session. After you are dressed, you and your LMT will discuss possible future treatment goals and anything else that is relevant to your session. This is a good time to schedule for your next appointment. Your therapist will have an idea of how often massage will be beneficial to you based on your treatment plan. It's very important to drink plenty of water after your massage. Massage helps to release a lot of toxins that build up in your body over time. Water will help to flush these toxins out and prevent any soreness that you may feel from any deeper or focused work.